Daily cruises to the Corinthian islands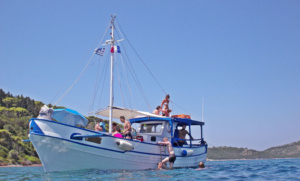 Enjoy day cruises with the "Oianthi" boat to the islands of the Corinthian Gulf, Trizonia and Ai-Giannis. Starting daily from the beach of Loggos, "Oianthi" boat offers dreamy excursions to the clear waters of the Corinthian Gulf, where you can swim, fish or relax while enjoying seafood snacks and drinks on board. For more information visit: oianthi-cruises.gr
Kitesurfing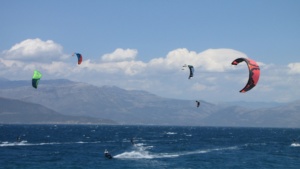 Have fun by doing kitesurfing over the waters of the Corinthian Gulf. Complete kite learning programs are provided in an organized area of Digeliotika beach(3km from Aigio) as well as private lessons with a rescue boat for the beginners. For more information visit www.kiteboardingschool.gr
Tennis Club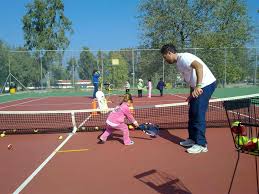 Tennis facilities are available on Akoli Beach, (nearby Loggos) for the enthusiasts of the sport, in order not to lose your favorite habit during the holiday season. For the beginners there is the possibility of special courses by the experienced professors of the group. For more information, please contact: 6976-589093
Route with Odontotos in Kalavryta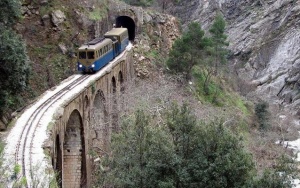 Do not miss to give yourself the unique experience of the historic route to Kalavrita with the "Odontos" train through the Vouraikos Gorge. The train's route is truly enchanting through caves, rocks and pine forests that make up a setting of unparalleled beauty. It will surely be memorable for you !!! Routes start daily from Diakopto. For more information, visit www.odontotos.com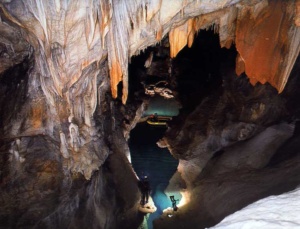 The Cave of the Lakes is located in the village of Kastria in Achaia, 17 km from Kalavrita. It consists of 15 lakes with stalactites and stalagmites and is characterized as a unique geological phenomenon worldwide. Its interior is really a rare creation of nature and the path of it is an exciting experience worth living! For more information visit www.kastriacave.gr
Lake Tsivlou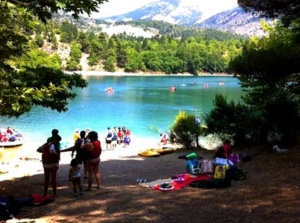 Lake Tsivlou is located above Akrata, 700 meters above sea level and is surrounded by Mount Helmos. It is a natural lake that was created in 1913 after a landslide that blocked the bed of Krasi River. Its name comes from the village of Tsivlos, which is located at the bottom of the lake after the landslide. The lake is surrounded by a dense pine and fir forest and is a popular recreational destination. Around the lake there are many small villages (Peristera, Zarouchla, Agia Varvara) with traditional taverns worth visiting !!!
The prefecture of Achaia is a gifted place that combines with mountain and sea harmony in a very close distance and is an ideal choice for summer and winter holidays. The area is also offered for religious tourism with the multitude of monasteries it really deserves to visit (Monastery of Agia Lavra, Taxiarchon Monastery and Leonios Monastery, Monastery of St John the Theologian of Verin).
If you would like to go far afield, having as a base for your stay in Lógos, we suggest you visit areas of great archaeological and historical significance such as the Ancient Theater of Epidaurus, Ancient Olympia, Delphi, Mycenae and Nafplion. For sure, the privileged location of Nikolatos Apartments offers you many choices during your stay in the area or choose Logos for summer or winter holidays !!!